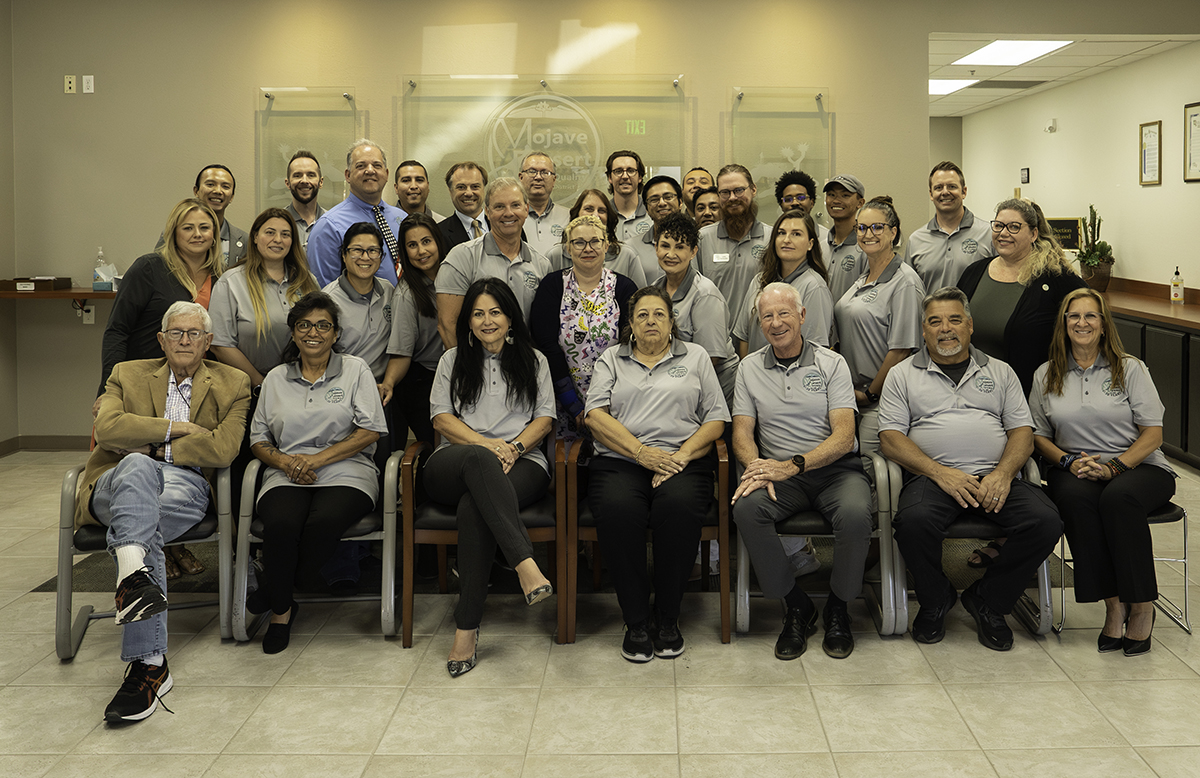 MDAQMD staff members and board members pose for a group photo in the MDAQMD office lobby on June 26, 2023.
The Mojave Desert Air Quality Management District (MDAQMD) on July 1 marked 30 years of serving the High Desert and Palo Verde Valley.
Prior to July 1, 1993, the District was officially a department of the County of San Bernardino. Assembly Bill 2522, proposed in 1992 by then-Assemblyman Paul Woodruff, separated the San Bernardino County Air Pollution Control District from the county, creating the independent MDAQMD in the process.
The legislation and its passage allowed local leaders more effective control in addressing the High Desert's unique air quality issues. It also allowed for the annexation of contiguous areas. In 1994, MDAQMD annexed the Palo Verde Valley, including the city of Blythe, in Riverside County.
In 2023, MDAQMD regulates stationary sources of air pollution and monitors air quality across more than 20,000 square miles, including nine incorporated municipalities within three supervisorial districts in San Bernardino and Riverside counties. The District's Governing Board is composed of 13 members representing those nine cities, three county districts and one public member.
Business owner and former First District Board Supervisor Robert Lovingood was recently sworn in as the Public Member. "I am honored to be on the Governing Board during this 30-year milestone and look forward to continuing the work towards healthful air quality and providing excellent service for all community and business members." said Lovingood.
"As the region continues to grow, the need for our mission grows with it," says MDAQMD Executive Director/Air Pollution Control Officer Brad Poiriez. "We know our permit holders and business owners face increasing regulatory challenges, just as the District continues to face challenges in implementing statutes to reduce emissions to benefit all who live, work and breathe the air here. We have an incredible team and Governing Board who are all committed to our mission to attain and maintain healthful air quality while always keeping economic sustainability top of mind."
MDAQMD Deputy Air Pollution Control Officer Alan De Salvio is one of only two current staff members — the other, District Counsel Karen Nowak — who were on staff when the District became independent in July 1993. De Salvio says there was some initial trepidation in the transfer from county to independency, but many labeled the shift a positive one overall.
"We suddenly had control of our own destiny," De Salvio said. "There was a lot of optimism among the staff. We were excited and it was a good outcome for everybody."
The District and Governing Board formally marked the anniversary on June 26 at the board's last meeting of the fiscal year. Board member and Victorville Mayor Pro-tem Liz Becerra presented a certificate on behalf of the Victorville City Council at the meeting, and board members joined some District staff for a group photo to commemorate the occasion.
"We're ready for the next 30 years and beyond," Poiriez said. "Clean air is everybody's business in our desert, and that's always our No. 1 priority."
For more information about the Mojave Air District and its programs, please visit their website at Mojave Desert Air Quality Management District.
ICR Contact: 760-245-8384
Terry Saenz, Public Relations/Marketing Manager, [email protected]
MDAQMD Contact: 760.493.3546
Martial Haprov, Public Information Officer, [email protected]
Apply Now for High Desert Jobs
Are you ready to ready to use your skills and experience to build a better future? Contact us today and let us help you find the right fit. We take care of the tough tasks that go into finding your next career opportunity.
Click here to fill out our general application today!